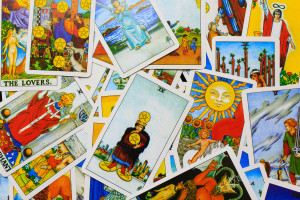 Psychic / Mediumistic – A Psychic and/or spirit connection between the reader and the recipient that is combined with the readings below.
Tarot – A card deck that is used for divination, self-help, development of intuition as well as spiritual and psychic growth.
AuraSoma – These cards are very unique, a traditional tarot image on one side (with featured colours) and a dual-image on the back. The top image is that of the corresponding aura-soma bottle, and the bottom is a secondary image colour.
Angel Cards – As Tarot symbols, Angels speak to us about balancing our energies. They have human and spirit energies running through their veins, and this offers unique perspectives in readings.